Do you feel too intimidated to join in a painting holiday?
You will be in a relaxed atmosphere, surrounded by beautiful scenery, Castelli Romani, just half an hour from Rome.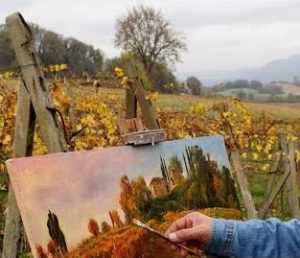 You will also make new friends, eat lovely food and drink good wine.
The idea of setting up this holiday wasto allow people to approach art without feeling intimidated. We don't want to create clones of one particular style or another but give you the skills and knowledge to develop your own style and let you feel free to experiment. You will work with watercolours, oils, acrylics, soft pastels, pencil and charcoal to enable you to discover which is suited to you. You will learn about colour, tone, composition, sight-sizing, how to handle your chosen medium and much more. Not every one feels comfortable painting plein air so we will combine indoor and outdoor sessions.
You will have outings (please see the program) but to make your holiday as relaxing as possible we won't be jumping on and off buses all the time! Frascati is close by and to provide plenty of inspiration, you will be surrounded by vineyards and panoramas. Art isn't just about creating beautiful pictures, but is also therapy, relaxing and good for your soul. Through art you can digest your feelings, bring them to the surface to discover a little more about yourself. Of course if you are already a confident painter you are more than welcome to join us!
January – March 2019
Who says painting holidays should only be during the warmer seasons? Moody skies can be inspiring to paint! And you don't have to worry about sunburn.
For our winter and early spring "Crafty Escape", we have chosen a Baroque Villa as our venue, which is now a 4 star hotel with breath-taking views over Rome .
You will paint indoors and outdoors according to what the weather permits. The last day will be dedicated to visiting an exhibition and discovering the highlights of Rome, where we will remain for aperitivo and evening dinner.
April – September 2019
What could be better than to stay in a winery, surrounded by vineyards with a view over Rome. You can see St. Peter's dome from your agritourism's terrace, which will act as base for painting. Of course you can find your own tranquil spot too.
You will visit the winery's caves and hear about the history of Frascati wines, complete with a guided tasting.  In this oasis of peace just 30 minutes from Rome and 5 minutes from Frascati, there is an abundance of inspiration.
package for a max of 8 people includes
a. PAINTING (5 Nights)
welcome drink, 4 dinners, 3 lunches, 3 coffee breaks, 3 half day of tutored painting and drawing, 1 exhibition ticket in Rome, transfers mentioned in the program
b. POTTERY + PAINTING (7 nights)
welcome drink, 6 dinners, 3 lunches, 5 coffee breaks, 2 half days pottery workshop,   3 half days of tutored painting and drawing, 1 exhibition ticket in Rome, transfers mentioned in the program
For information:  info@wineanddineholidays.com